EMSCULPT NEO
The 1st clinic in Ireland to bring you the EMSCULPT, we are now proud to introduce the new BTL EMSCULPT Neo. It is a revolutionary treatment that can restore your core, sculpt your abs, and give your bum the shape you desire!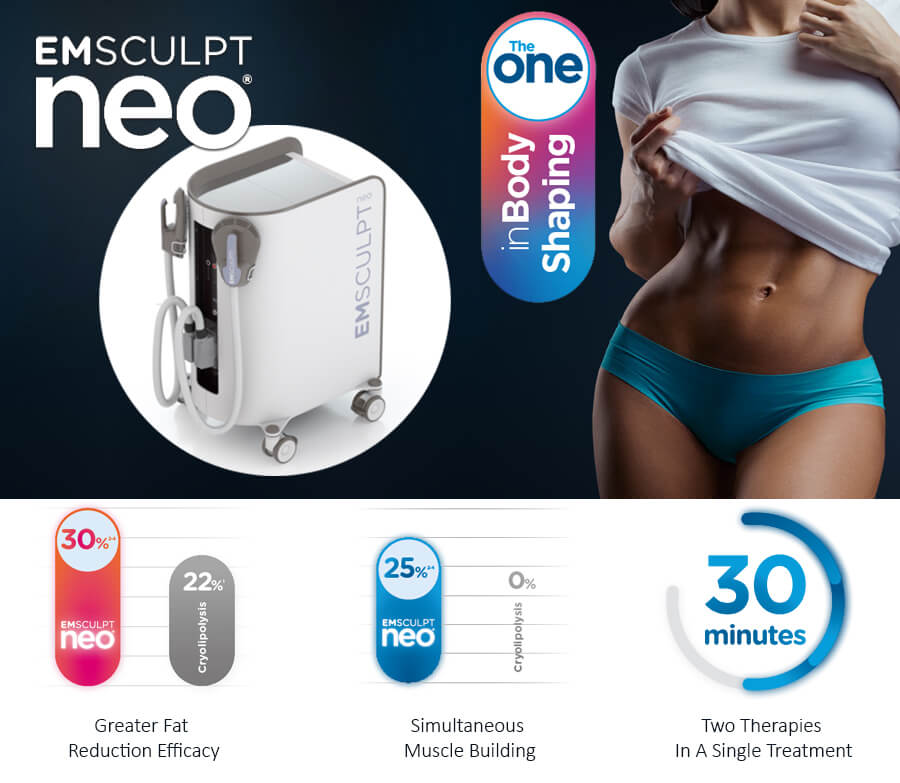 It cleverly combines 2 body contouring procedures into a 30minute non-surgical session to visibly reduce fat by up to 30% and increase muscle mass by up to 25%! The combination of radio frequency heat and high-intensity focused electromagnetic energy works to give better results than ever seen before on our abs, bum, arms and thighs. Radio frequency heating is a permanent form of fat loss to an area. EMSCULPT Neo is not only about fat, it is the worlds' only non-invasive procedure to help both women & men build muscle and sculpt their body while burning fat!
1st clinic to offer treatment in Ireland along with it's sister treatment EMSELLA
4 X 30 min sessions recommended
1 session = 20,000 crunches
Results felt after first treatment which
Continue to improve over following weeks
No surgery or anaesthesia
No downtime
FREQUENTLY ASKED QUESTIONS
WHY IS EMSCULPT THE BREAKTHROUGH IN NON-INVASIVE BODY SHAPING?
WHAT IS THE TREATMENT TIME?
HOW FAST WILL I SEE RESULTS?